Firewire™ – Weld Mold 9099 Patent Pending
---
Weld Mold 9099 "Firewire™" is an economical open arc wire that is the ideal product to use in the field or in the shop for quick slicing, dicing and part removal of diffi cult or impossible to burn alloys without switching equipment or process. With "Firewire™" it is not necessary to switch to stick. Just feed "Firewire™" into gun, hook up air supply, adjust amperage and start cutting!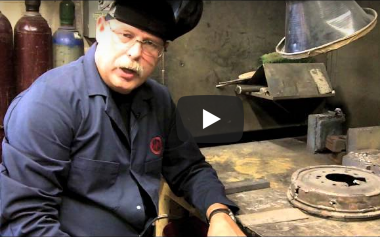 The product and process offers defi nite advantages over the use of standard carbon or graphite electrodes:
Reduced Noise – sounds like a standard MIG welding process
Eliminate Scrap – no broken pieces or wasted electrodes
Continuous Burn – eliminate stopping to reposition electrode after short burn
Consistency of Process – product is fed from 60 lb coil or 500 lb drum
Use Standard Wire Machine – just add nozzle, compressed air and "Firewire™"
Rapid Nonstop Slicing and Gouging – keep burning!
Substantially Reduced Carbon Blow-by – provides a cleaner working area
Superior Performance and Efficiency – greater value for greater amount of work
Firewire™ is used for removing or slicing any metallic deposits or base metals; Cobalt, Nickels, Chromium Carbide Wear Plate, tool steels; to modify Chromium Carbide Wear Plate (See Weld Mold 9900 Technical Data Sheet for Wear Plate); removal or resizing manganese type steels and chrome manganese hard facing; for working with any steels or other alloys that have had Chrome Carbide, Nickel Manganese, Chrome Manganese or other surfacing previously applied. This wire is ideal for repairs on railroad, mining or any repair or manufacturing operation where it is not convenient to have numerous pieces of equipment on site.
For all metal removal and metal working applications regardless of the metallic ferrous or non-ferrous base of weld deposit!
Steel Mill
Rail Frogs and Crossovers
Forging Dies
Shovel Buckets
Seized Dies/Pins
Hammer Mill Hammers
Shovel Teeth
Crusher Rolls
Impeller Bars
Shovel Pads
Dipper Teeth
Impact Hammers
Manganese Castings
Railroad Frogs /Switches
Breaker bars
Shot Blast Cabinets
Chains/Cables
Fragmentizing Equipment
Frozen/seized Bearings
Cobalt and Nickel Base Materials
Rock Crusher Jaws and Rolls
Many More Applications!